Just a few hours ago CD Projekt Red, developers of the much loved Witcher series, announced that what is probably their most anticipated title ever has been delayed until 17 September, 2020. Here is their announcement.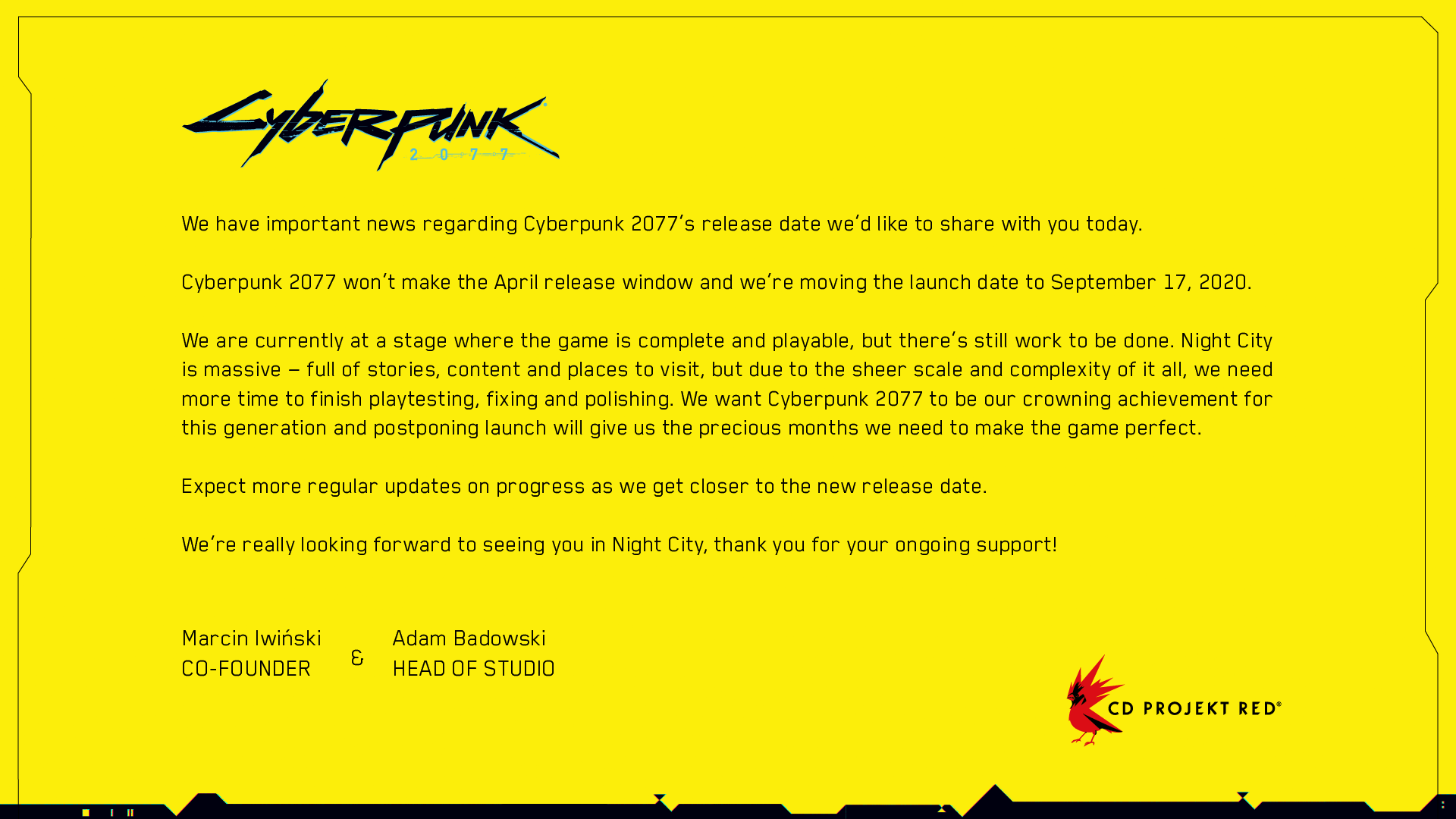 I've been following the development of this game almost from the first day it was announced. I have been active on the CDPR cyberpunk forums and have followed the announcements and developments as they appeared. One of the most exciting was the announcement at last year's E3 was that Keanu Reeves would be playing the roll of Johnny Silverhand, an iconic character in the Cyberpunk 2020 world.
The cyberpunk aesthetic and culture has been a huge part of my life from my early teens. When, in 1988, R. Talsorian Games published Cyberpunk 2013 I immediately purchased a copy. Two years later a second edition was released pushing the timeframe to 2020. Designed by Mike Pondsmith, Cyberpunk 2013/2020 fully embraced the cyberpunk feel found in the literature. It even used the classic novel Hardwired by Walter Jon Williams as the basis of one of its supplements.
Cyberpunk 2077 has been developed with the blessings and aid of Mike Pondsmith so that the feel of the pen and paper role-playing game would be adhered to and the setting of Night City replicated. From the details we have seen over the years, CD Projekt Red has captured that aesthetic almost perfectly. This may be the first truly cyberpunk game that we've seen.
The announcement today that the game would be delayed a further five months is certainly disappointing, but if there are any questions about quality and playability then the delay is for the best. A game that is not fully functional or of poor quality would kill this game stone dead before it got started.
While this news will undoubtedly raise the ire of many 'fans', those of us that have been there from the start will be grateful that CD Projekt Red are taking the time and effort to ensure that all our hopes for a great experience are met. I'm looking forward to the results.